A Place to Tell Your Story
"But for you who fear my name, the sun of righteousness shall rise with healing in its wings."
Malachi 4:2
Meeting Time
Sunday | 6:00 PM
Location
193 S. Cherry Street, Freeport, MI 49325
The red brick church building on the NW corner of Cherry and Maple.
It was in early 2017 that we started meeting as a church in Freeport. The Village Community Center was available for Sunday Evening services. We officially started the first Sunday of May 2017.
Consequently, The Gathering Place of Freeport was born. Every Sunday afternoon we would set up the chairs and equipment. During the Covid event we met in the basement of a church north of town for nine months. Recently we have purchased the old church building in Freeport located at 193 Cherry Street.
We Gather together at 6pm every Sunday evening, we sing a few worship songs, and we study the Bible. When the service ends, we spend some time visiting and enjoying the refreshment the folks have brought in for the meeting. Every Sunday is a blessing.
We have continued to grow in the community with folks and families attending services regularly. We have a few meetings for midweek bible study. These midweek meetings usually run from September through May.
It is not really all that complicated. Jesus gave us a commandment. John reminds us of it in his epistle, "And this is His commandment: that we should believe on the name of His Son Jesus Christ and love one another, as He gave us commandment." (1 John 3:23 NKJV)
It makes us wonder what would happen in our towns if folks would just believe what God has said about His Son, and if we all would work hard at loving one another, our neighbors? The church should be a safe place for anyone to attend and feel loved by God and His people.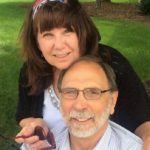 Galatians 1:9-24
Karl & Dale Rewa
Pastor Karl and Dale Rewa entered full-time missionary work in 2008 and are serving as domestic missionaries with Cord Ministries International. They have been involved with The Gathering Place of Freeport since the beginning of the local church plant in early 2017.  In the past, they have been involved with small church ministries for many years and in different capacities, from janitor to deacon, elder and pastor.  They live right in Freeport and are available at most any time for a visit and a cup of coffee.  If you have any questions, please feel free to call.
More information
Karl Cell | 231-577-8514
Email | karlrewa@gmail.com
Dale Cell | 231-577-8340
Email | dalerewa@gmail.com
Office Address:
143.5 Division St
Mailing:
P. O. Box 107
Freeport, MI 49325